Calculators
With their stylish designs, our range of handheld, desktop, office printing and scientific calculators are built for every task. Our calculator designs combine simplicity, style and function. Over 55% of our calculator range is partially made from recycled Canon product materials. This supports sustainability and offers the perfect balance of maximum style and minimum waste.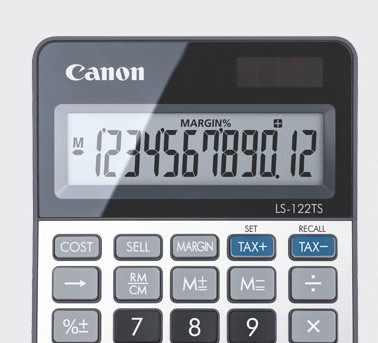 Essential Series
Inspired by traditional Canon craftsmanship, the essential series combines simplicity, sustainability and user friendliness. From pocket-sized personal portables to larger models, these smart, stylish and lightweight calculators are easy to read and use. The ideal companion for business professionals.
The LS-39E is an 8-digit, large display handheld calculator with 360 degree rotating hard cover (upward folding cover).
8-digit, dual power (solar & battery) handheld calculator
A 12-digit desktop calculator offering handy Tax Calculation functions and adjustable LCD display panel. With an 'IT-touch' keypad, dual power source and a professional black finish.
The TX-1210E is a 12-digit desktop dispay calculator, with a large upright angled display. It has a stable stroke keyboard, Euro Currency Conversion and Tax Calculation function.
Canon LS-102TC Environmentally friendly mini calculator Angled display 10 digits Solar and battery powered Tax calculation function Currency conversion Grand total memory Algebraic sign change Auto shutdown function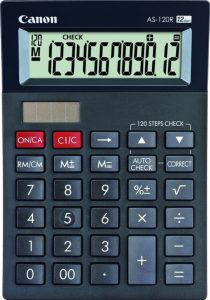 Economical Series
A modest collection with thoughtful and sustainable design. Created for general households and offices, these models are lightweight, with a curved 'arc design' and large angled LCD displays so the numbers can be read easily.
This compact and stylish 8-digit handheld calculator features the smart arc design and a 360-degree upward folding durable cover, making the AS-8 ideal for use in an office or on the go.
This 14-digit desktop calculator combines a stylish Arc design with substantial environmental credentials – making it ideal for organisations and individuals.
This smart 12-digit compact desktop calculator has time saving business and tax functions, including 120 calculation steps stored to memory. Part-manufactured from Canon recycled materials, it supports environmental sustainability too.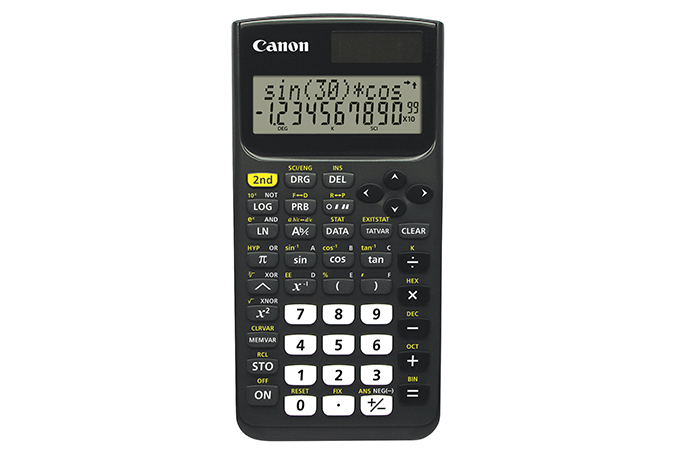 Scientific Series
Compact yet powerful, our range of scientific calculators performs up to 610 different scientific and statistical functions. Perfect for professional, school or university use and with slim, lightweight designs, they offer a simple solution to complex problems.
With a large 2-line LCD display, the advanced F-715SG Scientific calculator comes in three colour variations. It's part-manufactured from recycled Canon materials, making it a sustainable choice.
Part-manufactured from Canon recycled product material, making it ideal for people interested in sustainable consumption.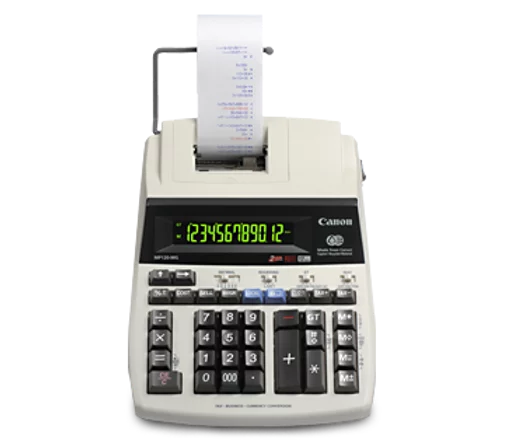 Printing Series
These calculators incorporate a fast and durable printing unit for clear printouts in one or two colours. Their ergonomic keyboards and large displays add to their convenience and make them perfect for heavy-duty use in busy offices. Their fast print speeds ensure productive performance.
This 12-digit handheld calculator offers true printing mobility for professionals, with full tax, business and currency conversion functions. It's efficient and elegant, with a silver metallic finish.
Profit from portable productivity with this 12-digit, 2-colour printing calculator. It offers professional tax, business and currency conversion functions – and has a stylish, silver metallic finish.
This 12-digit, 2-colour display, 2-colour printing calculator combines eco-friendly production with professional performance. Business, tax and currency conversion functions add to efficiency.
This fast, 14-digit, 2-colour ink ribbon printing calculator offers comprehensive tax, business and currency conversion functions. It has a large 2-colour display and a smart, silver metallic finish.