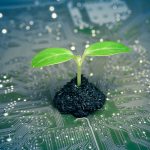 Avesta believes wholeheartedly in creating a sustainable environment. We take all possible measures in the running of our business to support this view. We are working towards ISO14001, an environmental management system, which demands objective evidence that can be audited to demonstrate that the environmental management system is operating effectively in conformance with the standard.
Our partners are well known global leaders in the printing industry. They invest heavily in large part of development work focuses on environmental improvement, combining ecology and productivity to operate in a more productive, resource-efficient and sustainable way.
Waste treatment
Avesta has a recycled waste treatment by ISO certified companies. We work with multiple recycling partners depending on the kind of waste stream. Besides recycling of metal and Hazardous waste, we separate residual waste, paper and plastic.
We start taking out the below Hazardous parts:
– Toner cartridges
– Toner pump and toner tubes
– Waste toner bottle
– Drum units
– Developer units
The above parts will be putted in a sealed plastic bag and wasted in a special waste container for
Hazardous goods. Once the container gets full, our recycling partner collects the container.
Then we load the remaining parts (plastic and metal) in a metal/plastic recycling container, ready to be collected.